Creating a more inclusive experience for every Virtuwell customer
Throughout history individuals who identify with gender and/or sexual identities that fall outside societal norms have been the subjects of widespread and systematic discrimination. In fact, many U.S. institutions were founded and built upon policies and belief systems that intentionally sought to exclude and marginalize members of the lesbian, gay, bisexual, transgender, queer, intersex and asexual (LGBTQIA+) community. These practices extend to the U.S. healthcare system, where the unique and complex needs of the LGBTQIA+ population have largely been ignored.
A troubling history
For gender non-confirming individuals, the negative effects of discrimination permeate every facet of daily life – causing many to withdraw and actively avoid situations that could be uncomfortable at best and violent at worst. This includes interactions within the U.S. healthcare system where everything from the exclusionary language used on intake forms to a provider's refusal to use correct pronouns, can make for an all-around uncomfortable and unproductive experience.
For the many individuals who experience obstacles when trying to access comprehensive and quality healthcare, the consequences can be significant. National statistics from the Centers for Disease Control and Prevention show that transgender individuals experience adverse health outcomes that are two to five times higher than the general population.
Statistics like this highlight the importance of ensuring members of this population have access to quality healthcare that serves their unique needs and interests.
Changing healthcare paradigms
Access to quality healthcare is a human right. Yet, for members of the LGBTQIA+ community, various inequities exist that can make accessing appropriate care difficult to impossible. To initiate meaningful change, those of us within healthcare must first acknowledge our own biases and take steps to address and overcome those biases.
To bridge existing disparities, we must ask and answer hard questions. How do we break down and reimagine healthcare systems that were built upon decades of institutional discrimination? How do we implement changes to make healthcare more inclusive of and effective for LGBTQIA+ individuals?
Today, many healthcare providers and systems have begun the work to initiate change by actively rejecting years of stigma and discrimination. These efforts, coupled with targeted trainings and ongoing education to increase awareness and understanding, are helping reshape a healthcare system that is more equitable and welcoming to everyone.
Cultivating a more inclusive experience
As part of our commitment to provide simple, convenient and affordable healthcare to everyone – Virtuwell recently made enhancements to our customer experience. These improvements include new questions related to gender, gender identity and pronouns as well as amended language throughout our site that is more inclusive and representative of everyone we serve.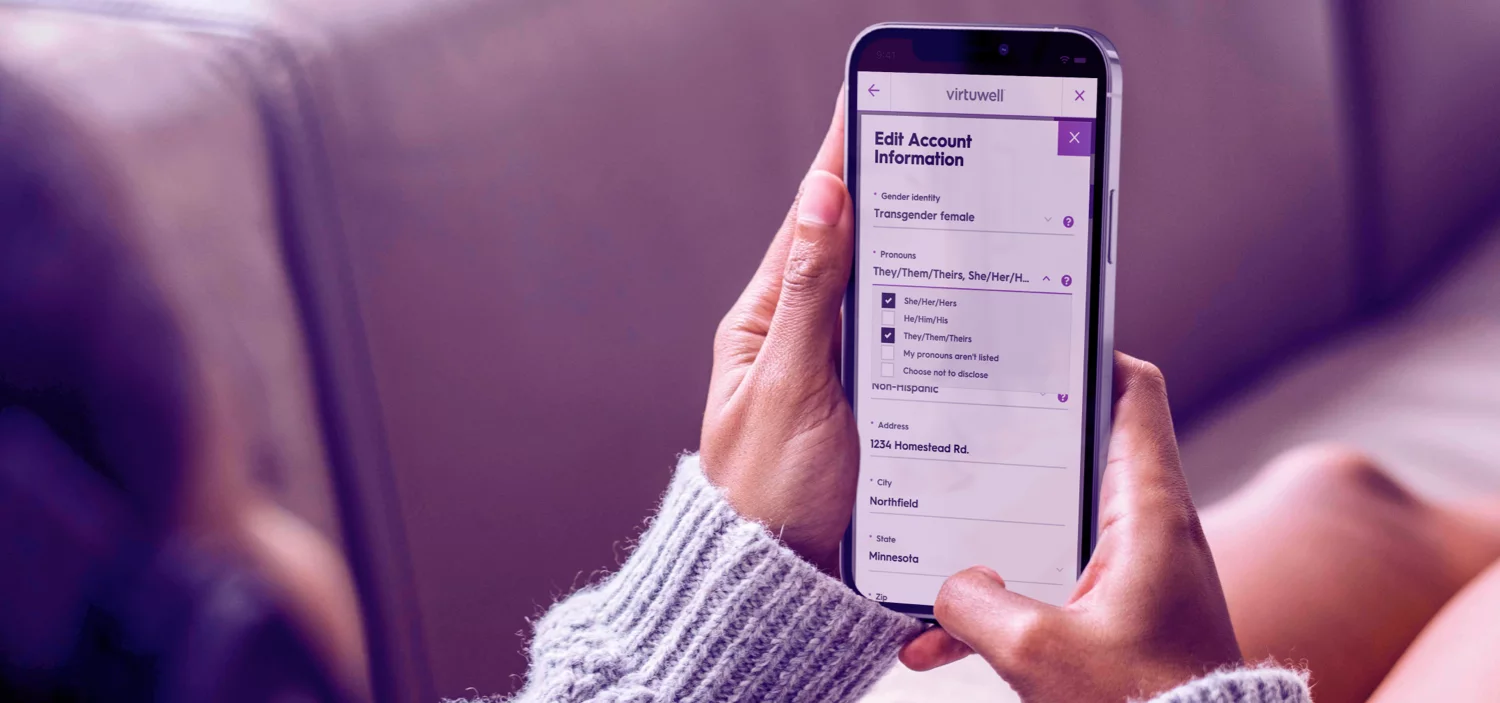 To some, these changes may seem small. However, we know that words matter. How we talk to our customers matters. And being thoughtful and purposeful with the addition or omission of certain terms and language can go a long way toward helping all of our customers feel welcome, included and valued.
We know that there is still much work to do. And Virtuwell is committed to doing our part to promote and foster change with the goal of cultivating a healthcare system that's affirming and inclusive of everyone's needs.
We're honored that you trust us with your care and are excited to continue this important work. In the coming weeks and months, we'll continue to listen, learn and make adjustments and changes to ensure we're delivering an experience that ultimately serves the best interests of every person.
Do you know someone who could use a simple & affordable healthcare option?